Testimonials
Met one of the guys that runs A&J Hauling at a BBQ a few weeks back. I had a fence replacement coming up so I took his number. Contacted him on a Friday that I was looking for pick up of my old fence either the following Monday or Tuesday. He gives me a time of time of Monday (the date of this review) between 10am and 12am. I ask him to text me about 30 min before they plan on being their so I don't have to leave work for 2 hours. Phone rings Monday at 9:20am, "on our way, bout 30 min out". I guess A&J Hauling doesn't like making people wait. Guys show up, they are friendly, look at what I got, and give me a price. They price they gave me was a lot less than what the other guy quoted me. As a new homeowner that plans on doing more future home projects, I will be using A&J Hauling for all my debris removal needs. They show up on time, they know what they are doing, they got the job done fast and didn't leave stuff behind. Businesses like A&J Hauling are hard to find these days.
There isn't a job too big or too small these haulers can't handle! From apartment clean outs, to removing mattresses to clearing out 500 tons of dirt or rock, A & J Hauling is simply the best! They are extremely friendly, always professional, efficient, on-time, they offer extremely competitive pricing and are willing to think outside the box! What I admire most is their eye for detail and competence to leave a job site cleaner then when they arrived! Great job A & J Hauling! Keep up the excellent work!
Very easy to deal with, took a carport out. Reasonable price. JP at first was going to schedule the work the next week but double checked and mention my complicated schedule he booked me in within 2 days. I would give them a call again.
Had them come out to remove some junk after clearing out my house and backyard. They were quick and easy to schedule, on time, professional, and left the driveway completely clean. Best of all they gave me a great price and I didn't have to lift a finger. I would highly recommend you call these guys.
Danny and his crew did an amazing job. First they dis-assembled a large backyard shed and hauled it away. Then they came back a few days later to jack-hammer a huge amount of concrete. They were always on-time, highly communicative and nice guys. Best part is that they consistently quoted me the lowest prices of anyone else I talked to. Highly recommended.
I was thoroughly impressed by the professionalism and the efficiency of the crew from A & J Hauling. We had to remove an old hot tub from our back yard. They were not only quick in removal, but they were also very cautious not to disturb any of our home structure or surrounding items in the back yard. After the removal, they went over and beyond to make sure the back yard was neat and orderly. We look forward to utilizing their services again.
Awesome!! I needed some furniture hauled away and had been dreading the entire process. I called A&J Hauling and they made the whole experience a breeze. Fair prices and very punctual. My furniture was out in 15 minutes and I was a happy camper. Keep up the good work guys!
I had A&J Hauling come out today, they did an excellent job for a very fair price. When I called they were professional and got me into their schedule quickly. I would highly recommend them and plan in using them again in the future.
I've used A&J Hauling on several occasions. Working within the real estate industry having people you can trust and refer is essential. These guys always pickup the phone or respond quick. The crew shows up dressed appropriately, work hard, are in an out quick. The pricing is very competitive compared to other local companies. I've hired them for interior and exterior residential jobs, spa removal, construction cleanup, you name it. Small to large jobs, do yourself a favor and at least call them for a quote.
After recently getting engaged my roommate was leaving our condo to move in with his fiance. Since they were merging lives and everything in them it was time to get rid of a lot of his "bachelor pad" stuff. So, we hired A&J Hauling to take away his crap and I thought it would be a good opportunity to add some of my own junk to the pile. They made it so painless. They were even able to make arrangements with us so no one had to be home. What they didn't realize is that I was home the entire time. We live in a condo with a large enclosed patio so we left all of the hauling items out there. A&J Hauling was discrete and respectful of our neighbors. I was waiting for them to take the items away and then realized they were already loading it onto their truck and I didn't even hear them take it. These were big items, a queen sized mattress and 4 dining room chairs, etc. I really appreciate their professionalism and stealthiness. They were fast and efficient and it was super easy to set up the haul with them. You can even do it form their website. Our condo is now junk free and my husband and I can enjoy our own home without a roommate. Ahhh...being junk free? That's a nice feeling. Now I know who to call when we're ready to take on all the junk in the garage. lol Thank you, A&J Hauling for being awesome!
This is a really great company to work with. I've hired them 3 times. They are prompt and thorough. Their customer service is very good. I highly recommend this company.
It's amazing how much crap can accumulate in a garage over several decades and we finally made the decision to clear a lifetime of junk out. The process seemed more than a little daunting at the beginning but we hired A&J Hauling and they made the job much more manageable. They were professional, easy to work with, reasonably priced and were able to help us with very short notice. They recycle all your old electronics and try to keep as much out of the landfill as possible. We will definitely continue to use them for any future hauling needs.
We haul anything!
(well, almost anything)
10-wheeler/Super 10 trucking
General clean up
Garage and side yard clean outs
Household garbage/junk/furniture
Pressure treated/stained/painted wood recycling
Green waste recycling
Hot tub/spa demo and removal
Appliance and metal recycling
Concrete break up and removal
Mobile home demo and removal
Deck demo and removal
Dirt removal
Lot clearing and property preservation
Bobcat and excavator service
Trailer drop off service
Commercial property service
Foreclosure and post eviction clean outs
Apartment clean outs
California certified electronic waste collector
Household Debris Calculator
Construction Debris Calculator
How Much is One Load?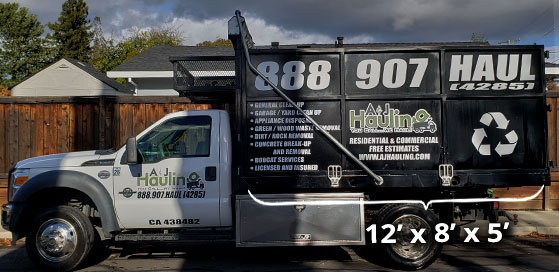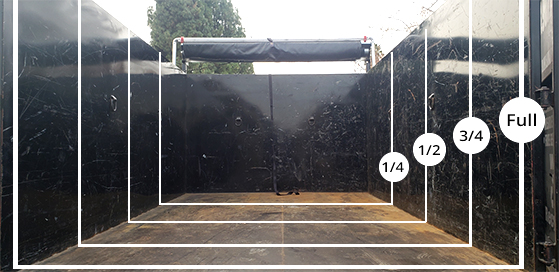 Truck beds measure 12' x 8' x 5'